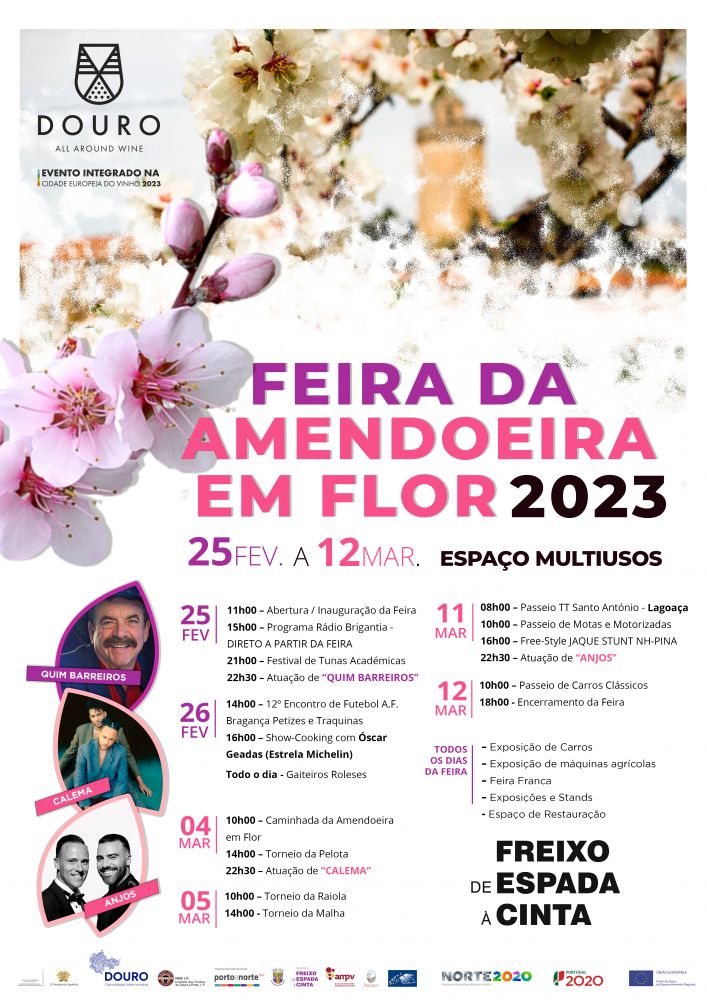 Feira da Amendoeira em Flor 2023 - Freixo de Espada à Cinta
Freixo de Espada à Cinta is getting ready for three weekends of entertainment with the edition of the Almond Blossom Fair 2023, to be held on February 25, 26 and March 4, 5, 11 and 12, in the Multipurpose Room.
In addition to the exhibition space, where endogenous products are highlighted, especially Silk, an unparalleled reference, the program of the Almond Blossom Fair includes, among other activities, a show-cooking session with Óscar Geadas, Michelin Star and Master Chef juror, as well as concerts by renowned Portuguese bands. An event whose promotion is reinforced by being part of the European Wine City program.
"This policy of territorial promotion, cohesive and sustainable, meets the commitment of placing Freixo de Espada à Cinta in the path of investor markets, enhancing the best and unique that this territory has to offer. Proof of this is also the multitude of activities that make up the program of the Amendoeira Fair", said the municipality presided by Nuno Ferreira.
From the program, we highlight the performance of artists such as Quim Barreiros, Calema and Anjos.
For three weekends, all roads lead to Freixo de Espada à Cinta!