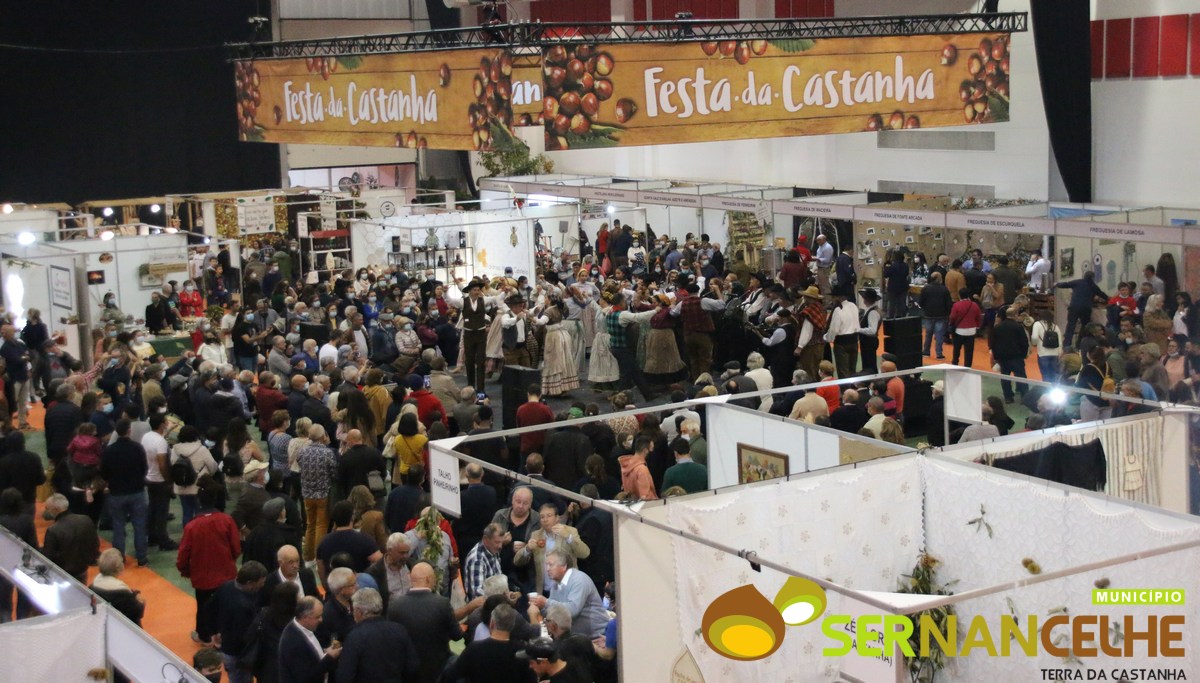 Sernancelhe organizes 31st Chestnut Festival
Sernancelhe is organizing the 31st edition of the Chestnut Festival on 27, 28 and 29 October, with a poster and programme featuring various events, concerts and taverns.
The Sernancelhe Chestnut Festival is celebrating its 31st edition this year. It is the longest-running event in the municipality and an authentic cultural event that began in 1992. It has grown to include many different venues, but has always maintained its original purpose: to help promote the Sernancelhe chestnut, to be a showcase for producers and companies, to boost the economy, handicrafts, culture and the people of Sernancelhe and to project Sernancelhe as a unique territory, with a history and a past, where identity is cultivated and celebrated. This year it will take place on October 27, 28 and 29.
The Chestnut Festival is a regional example of an event that has achieved all its objectives since its inception. And it has achieved much more by registering the "Land of the Chestnut" brand in the country as a symbol that today identifies, explains and differentiates Sernancelhe.
This event, which will be broadcast live on TVI on the 29th, will bring together more than a hundred exhibitors, companies in the sector, handicrafts, gastronomy, restaurants and entertainment at the Expo Salão, and will include exceptional walks and mountain bike rides through the Martaínha chestnut groves and along the Chestnut and Chestnut Tree Route.
For three days, Sernancelhe will pay homage to nature, its farmers and the balanced, centuries-old relationship between man and his environment. Tradition, economic dynamism and the future of the agricultural sector are premises that the municipality guarantees with the Chestnut Festival. And the result has been clear in the notoriety achieved by the Martaínha chestnut, its positioning on the national and international markets and the economic boost this fruit represents for hundreds of producers in the municipality and the region.
Scheduled to open at 6:30 p.m. on October 27, the event will feature a performance by the Duplo Sentido Group, fado à desgarrada by Borguinha from Braga and Maria Celeste, from Ponte da Barca. The Tuna Estudantina Universitária de Viseu will close the first day of the Chestnut Festival.
On the 28th, there will be the Pedestrian Walk, the competition for the Best Soutos da Lapa PDO Chestnut and the competition for the best chestnut jam. There will also be a presentation of the book Sabores da Castanha Martaínha, training sessions on the soutos, traditional Portuguese music and fado à desgarrada.
On Sunday there will be the 15th Rota da Castanha e do Castanheiro mountain bike ride, showcookings and the broadcast of TVI's Somos Portugal.
The Chestnut Festival is a nationwide event. Created three decades ago, this event is responsible for the affirmation of the municipality and for the "Land of the Chestnut" brand image, which Sernancelhe proudly displays!
The Chestnut Festival is returning to Exposalão from October 27 to 29, 2023.