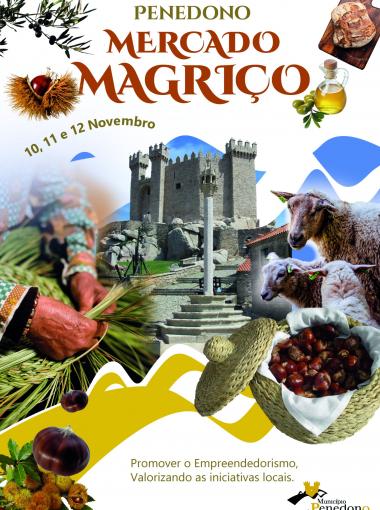 Mercado Magriço
The Magriço Market returns to Penedono on November 10, 11 and 12, and the event, which promotes the municipality's productive sector, features musical entertainment by Calema and Némanus.
Chestnut production, one of the municipality's most valuable economic assets, will once again be in the spotlight, but the Magriço Market will showcase other potentialities of the local economy, with the municipality, which is promoting the event, intending it to be a way of supporting entrepreneurs in the municipality, the smallest of the 24 in the Viseu district.
Flavors and knowledge, the promotion and sale of endogenous products, handicrafts, gastronomy and lots of music make up this 12th edition of the Magriço Market in Penedono, where there will be taverns and restaurants scattered around the event grounds.
The program also includes the 2nd Magriço Market Walk on November 11, where participants will be able to follow the Olive Oil Route, and the 18th Beselga Mountain Bike Marathon on November 12.
This initiative aims to be a showcase for Penedono's entrepreneurship and the activities that boost the municipality's economy, as it is a space where commerce, industry, the agricultural sector and livestock farming come together.
Penedono is a chestnut-producing municipality par excellence. However, in addition to chestnuts, olive oil is also an economic catalyst for the people of Penedono, thanks to the work carried out by the Vale do Torto Olive Growers' Cooperative in Souto. The quality of its olive oil, which has won several medals in international competitions, has already made its presence felt in several European countries as well as some in North America. As such, olive oil is also one of the protagonists of the Magriço Market.
Throughout the weekend, the program will show you a little more about the municipality of Penedono and everything it has to offer.