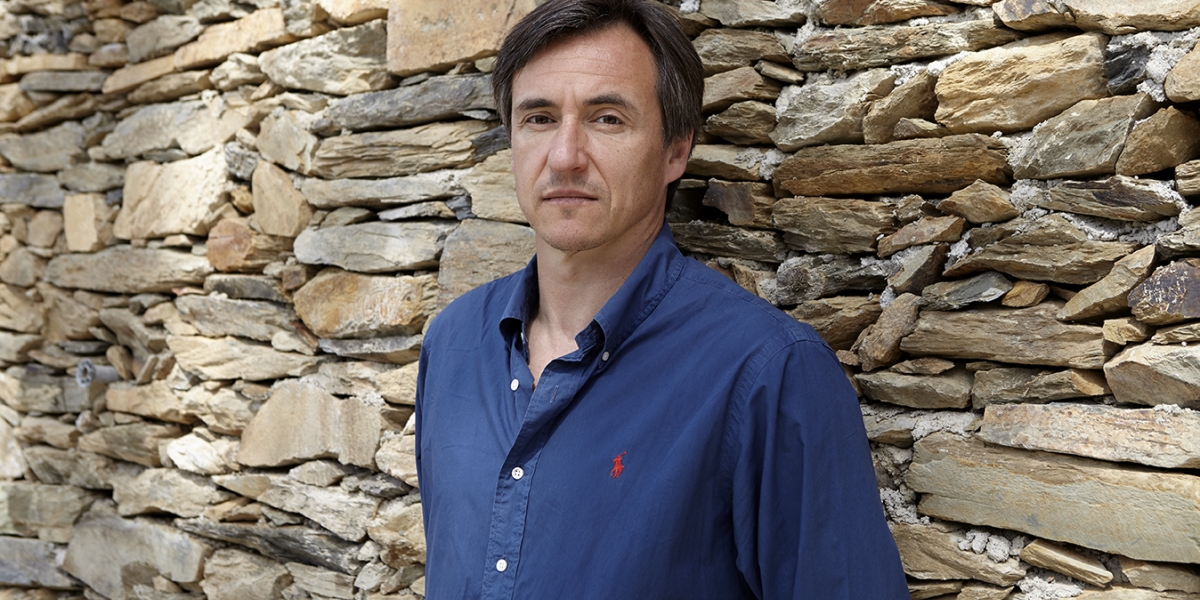 Jorge Moreira, blending the future Douro
Jorge Moreira, blending the future Douro
James Mayor of Grape Discoveries interviews winemaker Jorge Moreira at Quinta de la Rosa
Winemaking is often a family tradition in the Douro; Jorge Moreira, however, defies this rule. After school, where he says he was a shy and reluctant pupil, Moreira began an oenology course at Vila Real almost by chance. After graduation, not yet passionate about the profession, Moreira went to work for his brother-in-law who owned a wood-burning stove business.
Moreira's father, who had funded his oenology course, persuaded him to experience a grape harvest at Real Companhia Velha. As the venerable giant of Portuguese wine required grape pickers to have a grounding in the wine business, Moreira accepted a full-time job. He looks back, "I fell in love with the work."
The future oenologist was fortunate to have as his neighbour Dirk Niepoort, the descendent of a Port wine dynasty, then just beginning the dry wine experiments that would make him a Douro legend. Jorge Serodio Borges (who subsequently founded Wine & Soul with Sandra Tavares da Silva) was also working for Niepoort, and the three men met frequently to taste wines from the New World, France and Italy. Their ambition was to produce fresh, elegant wines, with good acidity and the capacity to age. These wines of character would tell the story of their terroir.
Although he was now the rising star of the Real Companhia Velha oenology department, Moreira was not totally satisfied. How could he be a great winemaker if he had no experience of vineyards, he wondered? The answer was Poeira, three hectares of prime vineyard above Pinhão where, in 2001, he made his first own label wine.
The following year, Moreira had an opportunity to exercise his talents on a larger scale, at neighbouring Quinta de la Rosa, a fifty-hectare property extending from the River Douro up to an altitude of 500 metres.
Today, Moreira is still the chief winemaker at Quinta de la Rosa, and finds the time to make sixty different wines each year. He believes in "listening to the vineyards" and says the "diversity in the Douro is unbelievable." In a better-informed, more adventurous consumer market, this diversity will in the long-term be to the Douro's advantage.
Moreira is convinced the Douro's strength lies in its unique grape varieties which provide almost limitless winemaking possibilities. He is emphatic it is pointless to use a winemaker's talents to replicate wine styles produced elsewhere in the world: "we need to preserve the character, flavour and structure of our own grape varieties."
He is currently enjoying rediscovering old Portuguese varietals and excited by the possibilities they offer. The challenge is to retain the rich complexity and exuberance of a hot wine region, to produce wines capable of deep maturation, that possess the freshness, acidity and tension of a cool wine region.
Unlike some of the Douro wine producers I have talked to recently, Moreira is not over-concerned by climate change. "The Douro was always hot and dry, and we are particularly well prepared for global warming here. Our schist soil allows the vine roots to go very deep to find moisture. The older vines do not need irrigation, although admittedly the younger ones suffer." Despite the last three vintages, 2016 – 2018, being exceptionally hot, it has been possible to make some outstanding wines.
Moreira is concerned about the price Douro wines command. "We need to sell wines at a price that allows us to make money." The Douro is a region in which the yield per hectare is extremely low, and with the impossibility of mechanized harvesting and international markets that react negatively to even a marginal price increase for entry level wines, producers have little room for manoeuvre.
The tourism boom in Portugal is providing stronger recognition for the country's wines. Portugal is now a robust brand and visitors are returning home enthusiastic about their tastings.
This year Moreira released a 2009 Poeira. He is convinced the way forward for Douro wines is to demonstrate their potential for ageing. This will make it possible to position vintages alongside Bordeaux, Burgundy and the best Italian wines, to gradually permit a rise in prices and prepare the way for more sustainable winemaking in the Douro.
The author, James Mayor, is the founder of Grape Discoveries, a boutique wine tourism business: www.grapediscoveries.com