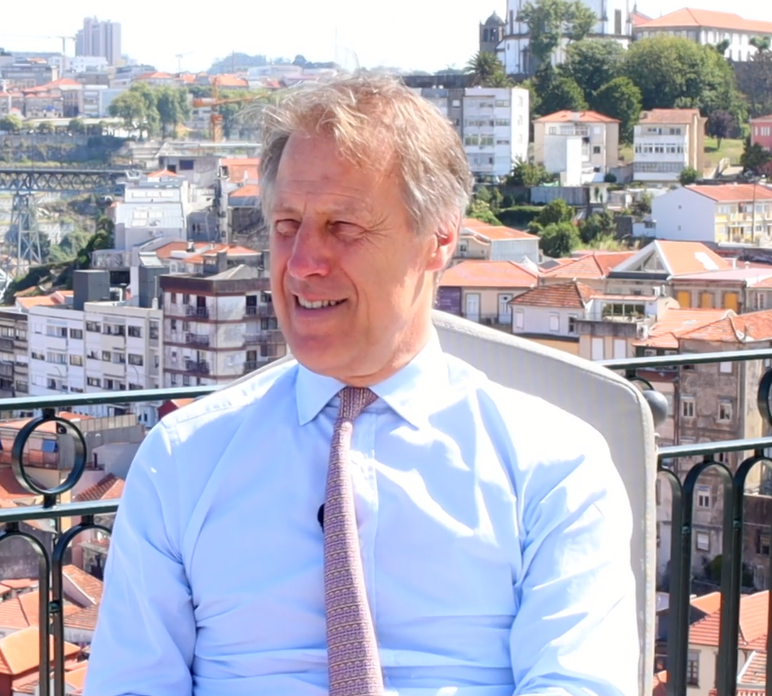 Adrian Bridge - World of Wine
World of Wine is launching!
This summer might not appear the most propitious moment to launch a major tourism project. Adrian Bridge, leader of the World of Wine, is not faint hearted. Opening on July 31, one of Portugal's most significant ever tourism projects is going full steam ahead, and those of us fortunate to be in Porto this summer will be able to indulge in some WoW moments.
A one hundred million euro investment, seven years in preparation, the World of Wine offers the UNESCO city and wine capital and gastronomy destination an immersive experience of winemaking processes discovered through the lens of Portugal's world class wines. A complex of museum experiences, restaurants, bars and shops are located in over 30,000 m2 of renovated Port wine warehouses in Vila Nova de Gaia, the historic heart of the Port wine trade.
I recently met with Bridge on the terrace of The Yeatman wine hotel. Below us the final touches were being added to this many-layered project. The launch of World of Wine is an important event in a country where tourism accounts for almost 20% of GNP and close to one million direct and indirect jobs. At trade tastings, Portugal's wines are attracting the international acclaim they deserve and they will now benefit from high visibility showcasing in a single location.
To Bridge, CEO of The Fladgate Partnership, owners of Taylor's Port, World of Wine is a "one of a kind" wine attraction, with no equivalent elsewhere in the world. A blend of information, immersion and fun, the World of Wine is an ambitious cultural centre, wine at its heart. With its wealth of terroirs, many indigenous and international grape varieties, and what Bridge refers to as "an incredible diversity of flavours," Portugal's wines are ideally suited for telling the generic story of wine in Porto, home to one of the world's most exceptional wines, Port. Bridge offered me an exciting hard hat preview…
The Wine Experience explores the grape's fascinating journey from vine to bottle. In Planet Cork visitors discover the many unexpected uses of cork. A Fashion & Design Museum showcases designers from Porto and the North of Portugal, a well of textile design talent. A unique antique collection, The History Of Drinking Vessels, relates the evolution of designs and techniques over 8,000 years of drinking. Porto Region Across The Ages tells the turbulent history of Portugal's wealthiest region.
As if all this was not sufficient to enliven our senses, the Chocolate Experience presents chocolate as a cultural product as we watch a Master artisan creating this perfect wine pairing. For those keen to deepen their wine knowledge, the Wine School offers a choice of classes for professionals and wine enthusiasts, and temporary exhibition and event spaces abound. Arranged around a large forecourt with a jaw dropping view of the city and the Douro River, the site also includes a selection of restaurants for different budgets and tastes, wine bars and, naturally, shops selling wine.
Back on the terrace of The Yeatman, Bridge enthuses about his favourite Portuguese wine region. "The Douro is the most spectacular wine country in the world. The view is always incredible." The city of Porto is the gateway to the Douro Valley, further upriver towards Spain. With the World of Wine, wine lovers will now have an additional compelling reason to visit this safe and peaceful wine region.
The author, James Mayor, is the founder of Grape Discoveries, a boutique wine tourism business: www.grapediscoveries.com