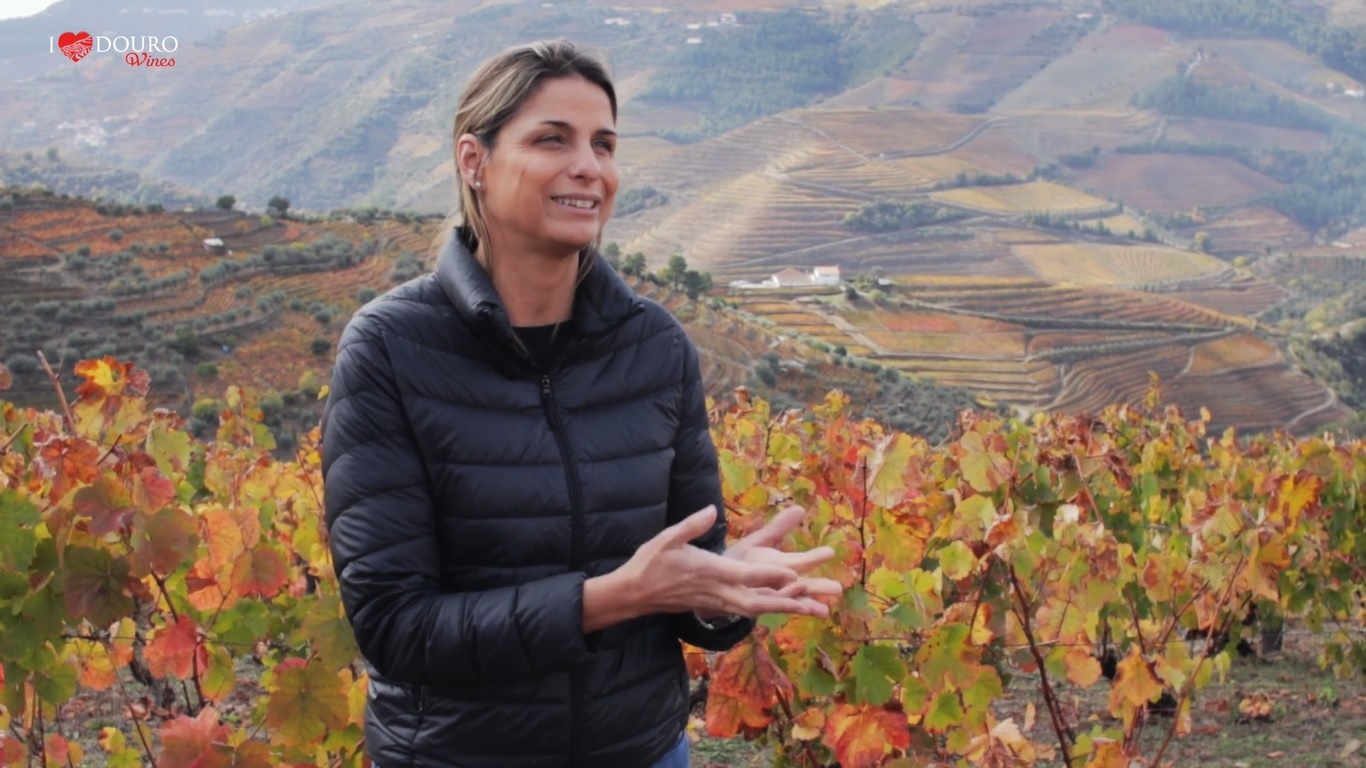 Sandra Tavares, creator of terroir wines at Wine and Soul
My heart invariably misses a beat when I turn off the road winding down the Pinhão Valley from Sabrosa to the River Douro. Just before I reach the Alvaro Siza designed Quinta do Portal winery, a narrow vertiginous track plunges down through vineyards and olive groves towards the Pinhão. It's breathtakingly beautiful, and precarious, if a car is coming the other way!
Wine and Soul, on the opposite side of the valley in Vale Mendiz, is surrounded by some of the finest vineyards in the Douro. Quinta do Noval is a neighbour and Dirk Niepoort makes Port nearby. The early morning mists have evaporated and the vines are splendid in an autumn coat that only nature can design.
Sandra Tavares da Silva with her husband Jorge Serôdio Borges, winemaking partners and owners of Wine and Soul, create terroir wines that leave no doubt why the Douro is such a special wine region.
Tall and elegant, Sandra's talk is punctuated with laughter. Until her first visit in 1999, she had never visited the Douro. With a city focused lifestyle and in the national volleyball team, her friends and family were incredulous she could fall in love with such a remote region. Two men were to be decisive in her life: Cristiano van Zeller, the owner of Quinta do Vale Dona Maria, for whom she worked making wines, and Jorge, whose family had been making wines in the Douro for generations and who had worked with Dirk Niepoort. To Van Zeller, "Sandra is the most perfect and knowledgeable person in terms of wine that I know. She has the scientific knowledge and a special gift for wine and blending which goes beyond this knowledge."
Sandra recollects when she and Jorge decided to get together in 2001, «we had nothing. Not even a vineyard.» They did however have a vision of the type of wine they wished to create. Extensive tasting of wines from other regions had convinced the couple that the Douro, with its exceptional terroirs, had the potential to become one of the world's great classic dry wine regions. They embarked on a search for a vineyard with old vines, «one of the treasures of the Douro, a heritage we need to keep for the next generations,» and found two hectares of south-west facing field blend vineyard with vines over eighty years old, a steep inclination and optimum sun exposure, at an altitude of about 450 metres. A near perfect combination, even in summer the vineyard is breeze cooled.
Here they created Pintas, a classic elegant Douro red, a field blend from forty different grape varieties, with full fruit concentration, never overwhelming, always elegant and fresh. Wine Spectator was sufficiently impressed to award Pintas 2011 an enviable 98 points! Sandra refers to the field blends of old vines as «the Douro's biggest secret.»
Other wines have since been added forming an organically farmed portfolio of reds, crisp mineral whites and Ports; terroir wines of the highest quality. In the Douro, yields are always low compared to many of the world's other great wine regions, and quantities bottled remain small, with demand for the best wines often outstripping supply. This year yields were markedly lower than usual with a cold, rainy spring, fortunately followed by an exceptionally hot summer that permitted optimum ripening. Sandra predicts a «fantastic» year for Pintas. Viticultural work, harvesting and winemaking all took place under challenging conditions imposed by the COVID pandemic. However after initial understandable nervousness, teams quickly adapted to the different shifts and hygiene protocols even more stringent than usual.
Despite a stellar winemaking reputation in Portugal and beyond, Sandra, like other winemakers I speak to, remains modest about the winemaker's contribution to the bottle, insisting that viticulture is paramount, and talking about «minimum interference from the winemaker in the winery.» Dry wines of quality have only been made in the Douro in the last two or three decades and «we are gaining knowledge year after year.» Sandra acknowledges that more scientific approaches to viticulture and winemaking, such as that taught at UTAD in Vila Real, have built on empirical ancestral knowledge and decisively contributed to today's high quality Portuguese wines. Nonetheless, to Wine and Soul it is «always fascinating to talk with the old people.»
Sandra suggests we take the winery's jeep and visit Quinta da Manoella, a vineyard she and Jorge own a little further up the valley. The vineyards here are surrounded by forest, creating a cooler micro-climate with more accentuated differences between day and night temperatures. The soil is deeper, allowing for greater moisture retention. We taste a Quinta da Manoella VV, with Tinta Francisca and Ruffette, uncommon grape varieties, from a century-old vineyard planted by Jorge's great-great-grandfather. This fine red has floral notes of wild flowers and herbs such as rosemary, and an earthy minerality that lend a truly distinctive character.
Remote and almost inaccessible, it is a privilege to be at Manoella. The cellar has a limited quantity of a Port over one hundred years old, until recently served only on very special family occasions, but now also for sale as 5G. Sandra says this delicate old Tawny Port has remained «elegant and sophisticated, fresh and alive,» after ageing in the estate's cooler, more humid environment.
The author, James Mayor, is the founder of Grape Discoveries, a boutique wine tourism business: www.grapediscoveries.com